Kindermusik "Our Time"
The toddler's need for security balanced with his need for independence is the main focus of this fun curricula.
Can you roar like a lion? Or hop like a bunny? Our Time encourages your child to explore the engaging musical world while building self-control, confidence and communication skills. Sense of balance and spatial awareness are encouraged with creative movement, and social skills are fostered by turn-taking and listening.
for toddlers 17 months to 3-1/2 years
session meets for 16 weeks; each class is 45 minutes long
each child accompanied by parent or caregiver
four 16 week non-sequential semesters
---
Four different 16 week semesters:

Wiggles and Giggles| Away We Go | Milk and Cookies | Fiddle Dee Dee

back to top
---
Class activities feature:
Singing, dancing, listening, expressive movement, tonal/rhythm patterns, instrument exploration and play, social development, basic musical concepts, family music making, and parent education.
Listening to the CD at home will greatly enhance the musical experience with your child. You'll be pleasantly surprised as you witness your child repeating many of the class activities and dancing to the music. You will probably be asked to replay the CD's over and over and over!

---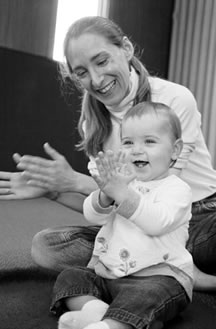 photo by Angela Lang | www.angelalang.com