Class Schedule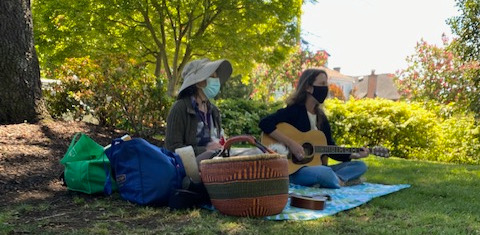 Join us with your little one for a joyful morning of music-making with friends. We'll bounce, sing, chant, giggle, move, play instruments, and dance. Nanci Schneidinger has been leading music classes for Bay Area families for over 20 years. Children of all ages are delighted with her puppetry and her creative teaching style. You will receive a Spotify list of songs that we will be singing in the class. We can't wait to meet you!
Albany Music Classes in the Park
Please contact me for the class location. Bring a blanket to sit on and any instruments for your own use. You'll receive a Spotify playlist with many of the songs we will be singing in the class.
| | |
| --- | --- |
| Dates/Times | Ongoing - Wednesdays from 10:00-10:30am |
| Price | $15/class, siblings are $5 extra |
Piedmont
Class participants will receive access to Nanci's Fall Spotify playlist which includes familiar folk favorites, as well as fun new engaging melodies for your home and car rides. Sibling discount available. To register, click here or contact the Piedmont Recreation Department.
7-Week Session
Thur Aug 26-Oct 7 (7×) 9:45-10:15am
Thur Aug 26-Oct 7 (7×) 10:30-11:00am
Thur Aug 26-Oct 7 (7×) 11:15-11:45am

Price
Resident: $110/session
Non-Resident: $130/session
5-Week Session
Thur Oct 14-Nov 18 (5×) 9:45-10:15am
Thur Oct 14-Nov 18 (5×) 10:30-11:00am
Thur Oct 14-Nov 18 (5×) 11:15-11:45am

Price
Resident: $80/session
Non-Resident: $92/session